AAUW (American Association of University Women): www.aauw.org is a national organization of 100,000 women and men in more than 1000 branches across the country. AAUW promotes equity for all women and girls, lifelong education, and positive societal changes.
We support the National AAUW mission:
AAUW advances equity for women and girls through advocacy, education, philanthropy, and research.
The Downers Grove Area Branch was founded in 1949 and has approximately 100 members from Darien, Downers Grove, Lisle, Westmont, and Woodridge. As a branch, we study global issues, promote women's education, and meet for social events.
---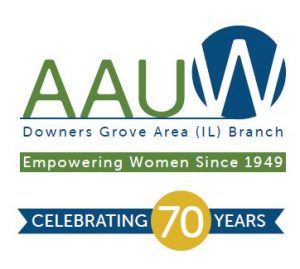 Watch for events and history to commemorate our 70th branch year!
---
Learn about "The Dinner Party" by Judy Chicago
Monday, January 6, 2020
6:30 PM SOCIAL plus JEWELRY/BOOK RAFFLE for Ways & Means
7:00 PM DVD and Discussion
8:15 PM BUSINESS MEETING
No need to go to Brooklyn, New York.  Come see the DVD of Judy Chicago's ART INSTALLATION – The Dinner Party at the Downers Grove Public Library.
Judy Chicago, an artist from Chicago, became obsessed with the question "Where are the Women from Judeo/Christian history?"  She delved and researched until she had 1,000 women's names from prehistoric, medieval and modern era to use in creating "The Dinner Party".
Please register before noon Sunday, 5th of January.
---