BACK TO THE BARBEQUE
January 20th at City Barbeque
People love good BBQ, as shown by the success of past fundraisers at City Barbeque! Place a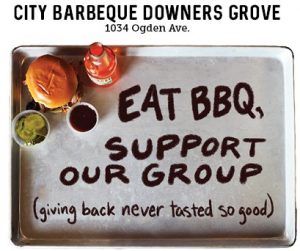 group order and we will get to our minimum of $500 in no time! Enjoy a cozy barbecue dinner during the coldest days of winter. Curbside delivery is available.
Following are the rules (many of which are also on the the flyer).
•   Our code for this fundraiser is FundA at the online order link
•   For an online order to count toward our fundraiser, you must apply code FundA prior to checkout online or in the City BBQ app.
•   Online orders must be fulfilled—i.e. picked up or delivered—on January 20th in order to be eligible: orders placed on the date of our fundraiser for fulfillment at a later date will not count toward your sales. (Orders can, however, be placed in advance for fulfillment on our fundraiser date.)
•   Online orders must be placed at City Barbeque Downers Grove to be eligible: orders placed using your code at any other location will not count toward your sales.
•   If ordering in person, tell the cashier it is for the AAUW fundraiser or present the flyer.
•   You may not pass out or distribute flyers on City Barbeque property.
•   Total fundraising proceeds must be $500 or more to receive your 20% of the proceeds from all eligible sales.
---
Thursday, February 4, 2021 from 7 – 8 p.m. via Zoom
"Travels, Triumphs, and Tribulations of Nellie Bly"
A one-woman show with Mary Hobein
Nellie Bly (1864-1922) was an investigative reporter, world traveler, business owner, patent holder, suffragist, war correspondent, and advocate for abandoned children and single mothers. A woman ahead of her times!
Co-Hosted by DG Area Branch of AAUW, Lombard Area Branch of AAUW, and LWV DG, Lisle & Woodridge
Register for the event HERE by Monday, February 1.
All those registered will receive the Zoom link on Tuesday, February 2.
A DG Area AAUW Branch business meeting follows the program at about 8 p.m.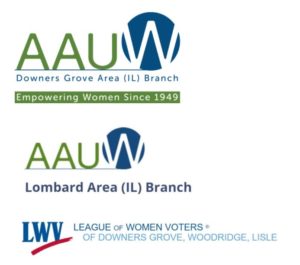 ---
AAUW (American Association of University Women): www.aauw.org is a national organization of 100,000 women and men in more than 1000 branches across the country. AAUW promotes equity for all women and girls, lifelong education, and positive societal changes.
We support the National AAUW mission:
AAUW advances equity for women and girls through advocacy, education, philanthropy, and research.
The Downers Grove Area Branch was founded in 1949 and has approximately 100 members from Darien, Downers Grove, Lisle, Westmont, and Woodridge. As a branch, we study global issues, promote women's education, and meet for social events.