AAUW (American Association of University Women): www.aauw.org is a national organization of 100,000 women and men in more than 1000 branches across the country. AAUW promotes equity for all women and girls, lifelong education, and positive societal changes.
We support the National AAUW mission:
AAUW advances equity for women and girls through advocacy, education, philanthropy, and research.
The Downers Grove Area Branch was founded in 1949 and has approximately 100 members from Darien, Downers Grove, Lisle, Westmont, and Woodridge. As a branch, we study global issues, promote women's education, and meet for social events.
---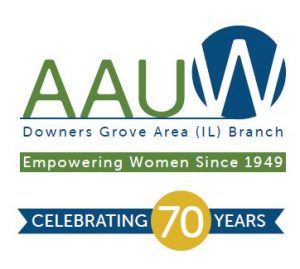 Watch for events and history to commemorate our 70th branch year!
---
1034 W. Ogden Ave, Downers Grove
Tuesday, January 21, 2020  :  10:30 am – 10 pm
When you order please present either a paper copy of the flyer (Print It Here!) or you can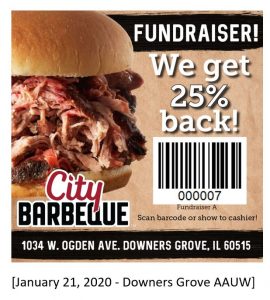 present the barcode from the image to the right on your mobile device.
Please feel free to pass out or email flyers to neighbors, friends and family. The paper flyer can be cut into 4 smaller flyers.
City Barbeque will donate 25% of the food, beverage and bottled sauce sales of our group back to our organization. (Gift cards, t-shirts and tax are not included in the percentage calculation.)  Benefit night funds go toward branch operating expenses.
---
Tuesday, February 11, 2020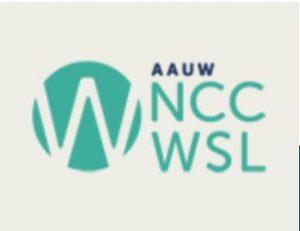 6:30 Social along with Jewelry Raffle
7:00 Program
8:15 Branch Business Meeting
Join us to learn more about the National Conference for College Women Student Leaders.  (https://www.nccwsl.org/)  Two local young women used scholarships to attend the conference last year and will share their experiences.