AAUW (American Association of University Women): www.aauw.org is a national organization of 100,000 women and men in more than 1000 branches across the country. AAUW promotes equity for all women and girls, lifelong education, and positive societal changes.
We support the National AAUW mission:
AAUW advances equity for women and girls through advocacy, education, philanthropy, and research.
The Downers Grove Area Branch was founded in 1949 and has approximately 100 members from Darien, Downers Grove, Lisle, Westmont, and Woodridge. As a branch, we study global issues, promote women's education, and meet for social events.
---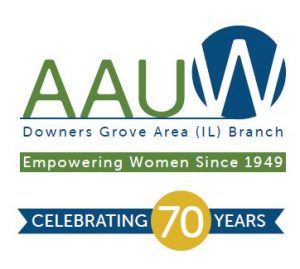 Watch for events and history to commemorate our 70th branch year!
---
We are in the news!  View the article here.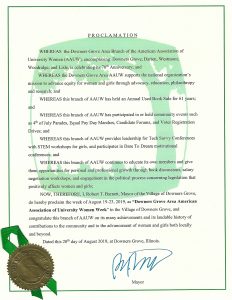 ---
Please join us at the First Meeting of our 70th Branch Year!
Thursday, September 5, 2019
Dinner and a Movie
Downers Grove Public Library, 1050 Curtiss Street
SOCIAL plus BOOK & JEWELRY RAFFLE at 6:30 PM
POTLUCK at 6:45 PM
MOVIE at 7:30 PM
BUSINESS MEETING at 8:15 PM
Please join us for our annual fall pot luck dinner to enjoy fun, food, and friendship.
Please RSVP by contacting the branch at dgaauw@yahoo.com before 9 p.m. on September 4 and bring a dish to share!
We will view Dreams of Equality as shown at the Women's Rights National Historical Park in Seneca Falls at 7:30 p.m. with the business meeting to follow.
---
Join us for a Benefit Day at City Barbeque on Tuesday, September 17th.
Show the image to donate 25% of your food & beverage purchase to our branch.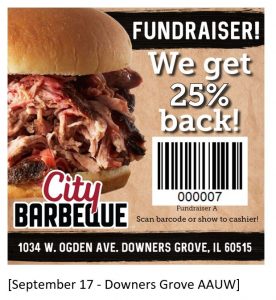 ---
---
Would you like to hear about upcoming programs directly in your email inbox?  Sign up here!