AAUW (American Association of University Women): www.aauw.org is a national organization of 100,000 women and men in more than 1000 branches across the country. AAUW promotes equity for all women and girls, lifelong education, and positive societal changes.
We support the National AAUW mission:
AAUW advances equity for women and girls through advocacy, education, philanthropy, and research.
The Downers Grove Area Branch was founded in 1949 and has approximately 100 members from Darien, Downers Grove, Lisle, Westmont, and Woodridge. As a branch, we study global issues, promote women's education, and meet for social events.
---
Equal Pay Day Rally!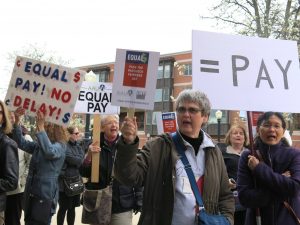 Tuesday, April 10, 2018
Gather between 5:30 & 6 p.m.
March from 6 – 6:30 p.m.
through downtown Downers Grove
Social time with a short program
beginning about 6:30 p.m. at Another Round,
5141 Main Street, Downers Grove
Raise your voices, ladies, (and gentlemen), and your signs and banners, and be seen and heard as we raise visibility on the important issue of Equal Pay for Women! Members of the Downers Grove Area Branch of the American Association of University Women (AAUW) and the local League of Women Voters (LWV) will once again join forces, along with any family, friends, and other members of the public, to rally 'round the cause of Equal Pay for Equal Work.
Help us raise awareness among train commuters arriving home and other citizens out and about during that time. Our route will mainly cover the downtown area, ending at Another Round Restaurant on Main Street, a few buildings North of the parking garage behind Ballydoyle.
There we will gather in a closed-off area on the left of the interior for appetizer/pizza-type refreshments paid for by the respective participating groups; drinks will be paid for by those ordering them. The social, mingling time will include introductions between the groups and a short program of an entertaining and educational nature. Please note that those unable to march with us are still welcome to join us for the social time and program.  Join us!

---