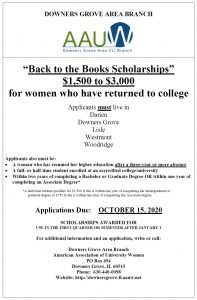 ---
DIVERSITY
co-hosted with the League of Women Voters of Downers Grove, Woodridge, Lisle
Wednesday, September 23 from 7 – 8 p.m. via Zoom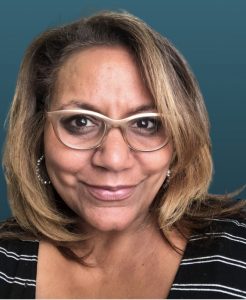 Autumn Geist is a mother, business owner, professional speech coach and community volunteer. She is also a woman of color and the proud mother of a police officer.
Autumn will be sharing her experience on racism, the importance of supporting BLM while also supporting law enforcement, and how to be an ally to people of color. Where do we go from here?
Register for this event by Sunday, September 20th by clicking HERE. You will receive a Zoom link via email on Monday, September 21st. If you register, but do not receive the link, please contact us at dgaauw@yahoo.com. You may enter a waiting room as early as 6:30 p.m. and the presentation will start promptly at 7 p.m.
---
Fundraisers
These events are how we raise money to augment our membership dues to cover our branch operating expenses and provide FREE public programs.

THE COLLECTIVE lhe+MAKERY : September 24 – 26

When you mention our branch when making a purchase, we will receive 10% on the first $600 of combined branch purchases (excludes taxes) and 15% on the combined branch purchases over $600!
Looking for a unique gift for a special person? It's never too early to start Christmas shopping! The Collective lhe+Makery is located at 4724 Main Street in downtown Lisle. Store hours for the fundraiser are Th:10-6:30, F:10-6, Sa:10-4. The Collective offers an eclectic variety of merchandise for you and your home. Shop for gifts, clothing, scarves, jewelry, paintings, coffee & tea, dishes, mugs and furniture-just to name a few! The Collective mainly sells items from local creators and businesses owned by women!
Don't feel comfortable with in-store shopping? This fundraiser includes orders placed on their website. They have 470 items on their website and they have curbside pick up. You can shop the website anytime during the 3 days of the fundraiser.  If you order on the website, please contact the store and tell them it is for the Downers Grove AAUW fundraiser, give them your last name, your order number and the amount of your order.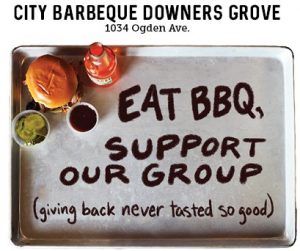 CITY BARBEQUE : Tuesday, September 22

City Barbeque will donate 20% of the food, beverage and bottled sauce sales of our group back to our organization.  Total branch purchases must be a minimum of $500 to receive any donation.
City Barbeque, 1034 W. Ogden Ave, Downers Grove is open from 11 am – 8 pm, so you can have lunch and dinner.  Gift cards, t-shirts, tax and orders places with 3rd party are not included in the percentage calculation.
You now have 3 ways to place your order:
For on-line orders, you must enter our unique coupon code "FundA" prior to checkout on the website or in the City BBQ app.  You will need to login and create a City BBQ account if you do not already have one. Online orders may be placed at the Downers Grove City BBQ location on or prior to September 22, but must be delivered/picked up on September 22 to count for our fundraiser.
For phone orders (630-869-1313) to the Downers Grove location, mention our coupon code "FundA" when making payment.
For ordering in person you must present either a paper copy of the flyer or you can present an electronic version of the flyer with barcode and coupon code on your mobile device.
There is in-restaurant pick-up, curbside pick-up or you can have delivery (extra charge will apply). Let them know which you will be doing at checkout.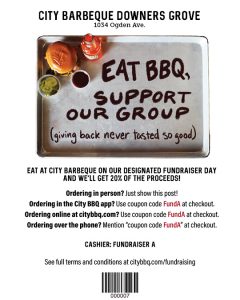 ---
AAUW (American Association of University Women): www.aauw.org is a national organization of 100,000 women and men in more than 1000 branches across the country. AAUW promotes equity for all women and girls, lifelong education, and positive societal changes.
We support the National AAUW mission:
AAUW advances equity for women and girls through advocacy, education, philanthropy, and research.
The Downers Grove Area Branch was founded in 1949 and has approximately 100 members from Darien, Downers Grove, Lisle, Westmont, and Woodridge. As a branch, we study global issues, promote women's education, and meet for social events.