AAUW (American Association of University Women): www.aauw.org is a national organization of 100,000 women and men in more than 1000 branches across the country. AAUW promotes equity for all women and girls, lifelong education, and positive societal changes.
We support the National AAUW mission:
AAUW advances equity for women and girls through advocacy, education, philanthropy, and research.
The Downers Grove Area Branch was founded in 1949 and has approximately 100 members from Darien, Downers Grove, Lisle, Westmont, and Woodridge. As a branch, we study global issues, promote women's education, and meet for social events.
---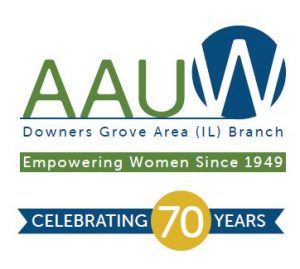 ---
Mod Pizza Benefit Night has been cancelled!
1022 W. Ogden Ave, Downers Grove on Tuesday, March 24 from 10:30 am – 9 pm
---
Equal Pay Day March
The Equal Pay Day March has been cancelled. We wish it was because Equal Pay has been achieved.
AAUW Resources about Equal Pay Day: https://www.aauw.org/…/the-simple-truth-about-the-gender-p…/
The Equal Pay Day March is a cooperative effort between the League of Women Voters of Downers Grove, Woodridge, and Lisle (dgwl.il.lwvnet.org) and the Downers Grove Area Branch of AAUW (https://downersgrove-il.aauw.net/)