AAUW (American Association of University Women): www.aauw.org is a national organization of 100,000 women and men in more than 1000 branches across the country. AAUW promotes equity for all women and girls, lifelong education, and positive societal changes.
We support the National AAUW mission:
AAUW advances equity for women and girls through advocacy, education, philanthropy, and research.
The Downers Grove Area Branch was founded in 1949 and has approximately 100 members from Darien, Downers Grove, Lisle, Westmont, and Woodridge. As a branch, we study global issues, promote women's education, and meet for social events.
---
View the flyer for complete details and contact us soon.  Deadline to apply is October 15.
---
Tuesday, October 16, 2018
Social: 6:30 pm Program: 7:00 pm Business Meeting: 8:15 pm
Keziah Frost will di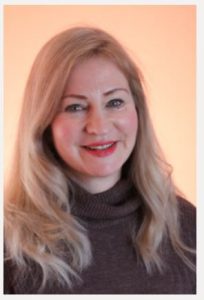 scuss the writing and path to publication of her debut novel, The Reluctant Fortune-Teller.  She will talk about where the idea came from, and where novel ideas come from generally, as well as the writing process, what she learned that helped her to finish the novel, and her own path to publication.
The Reluctant Fortune-Teller is about a retired accountant who is forced to become the town card reader in order to pay his Chihuahua's vet bill. It is a life-affirming story about how we continue growing into ourselves all our lives long.
For more information on the novel and on Keziah Frost, go to: www.KeziahFrost.com
---
Support our branch with an evening meal at Panera!
Join us Thursday, October 25th, from 4 – 8 pm at the Panera located at 160 Ogden Ave, Downers Grove. (In the same strip mall as Trader Joes and Office Depot.)
When you order you must present either a paper copy of the flyer or you can present an electronic version of the flyer on your smartphone or tablet.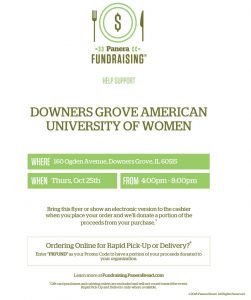 Please feel free to pass out flyers to neighbors, friends and family.
Panera will donate 20% back to the DG Area Branch of AAUW!