AAUW (American Association of University Women): www.aauw.org is a national organization of 100,000 women and men in more than 1000 branches across the country. AAUW promotes equity for all women and girls, lifelong education, and positive societal changes.
We support the National AAUW mission:
AAUW advances equity for women and girls through advocacy, education, philanthropy, and research.
The Downers Grove Area Branch was founded in 1949 and has approximately 100 members from Darien, Downers Grove, Lisle, Westmont, and Woodridge. As a branch, we study global issues, promote women's education, and meet for social events.
---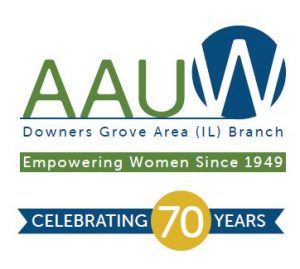 ---
Used Book Collections have been suspended until further notice.
**We have instructed Eagle Storage not to accept any book donations left for us in the meantime as we are paying storage on donations that are left when we are not able to accept and process them. Please do NOT take book donations to Eagle Storage until our book collections resume at some time in the future.**
The Used Book Sale for June 2020 has been cancelled.
Plans are being made for an online fundraising effort in order to cover our 2019/2020 storage costs and fund local scholarships.  We also hope to be able to fund and offer a Back to the Books Scholarship in the Fall of 2020.
Watch this website, Facebook page, or sign up here to receive complete details to be released before June 6th!